Title:
home isn't a place
Author:
Spikedluv
Fandom:
Teen Wolf
Rating:
PG13/Slash
Pairing/Characters:
Derek/Stiles (featuring Laura Hale and Kira Yukimura; with appearances by Sheriff Stilinski, Lydia Martin, Noshiko and Ken Yukimura, Scott McCall, Chris Argent, and Satomi Ito; cameos by Allison Argent and Danny Mahealani; original characters)
Length:
45,230 words
Spoilers:
This story goes AU before the series begins because Laura and Derek never return to Beacon Hills, but I mention things that happened during the series, so everything aired to-date (s6a), to be safe.
Summary:
Ithaca, New York is known as a sanctuary within the supernatural community, and Cornell University is where creatures such as Kitsune and Selkies can safely attend college. Though Stiles doesn't think he's anything special (despite having a 'spark', whatever that is), he attends on Satomi's recommendation; he wants to learn everything he can about the supernatural world so he can return to Beacon Hills and help Scott.

The last person Stiles expects to run into at Cornell is Derek Hale. Derek is gruff and grumpy, but despite that Stiles is drawn to him. When someone begins murdering supernatural students Laura Hale takes Stiles under her wing. Between attending class, hanging out with Kira, adopting a dog, and keeping score for the baseball team, Stiles investigates the deaths to figure out who's killing his fellow students before he ends up a victim himself.

Through it all, Stiles learns the real meaning of 'home'.
Author's Notes:
College!AU, baseball!AU. Can you call it a canon-divergent!AU if it diverges before the series even beings? Written for
Sterek ReverseBang on Tumblr
. The title is from the saying, home isn't a place, it's a person, which apparently has several variations and sources.
Warnings:
Show-level violence. Mention of an animal being injured and dying previous to the start of the story. An alpaca gives birth.
Feedback:
Would be greatly appreciated.
Disclaimer:
None of the Teen Wolf characters belong to me (more's the pity) and no money is being made.
Posted:
June 16, 2017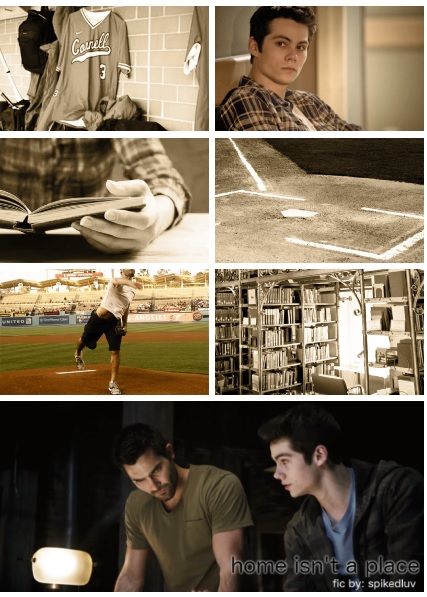 ~Created by Jen/froggydarren

Read Fic @ AO3 | View Art @ Tumbler
(See Fic Post for additional notes and thanks.)